2 December 2017 10:30am–1:00pm
Christ Church Centre, Magdalen Road, Norwich NR3 4LA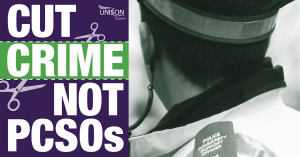 Norfolk Constabulary is planning to axe all 150 police community support officers (PCSOs) in the county to save money.
We are determinded to stop this short sighted move. There is a real danger that if we don't stop this in Norfolk other police forces around the country will do the same.
We want to send a strong message to the Norwich North Conservative MP Chloe Smith that the government's priority should be cutting crime and not cutting PCSOs who play a vital role in keeping our communities safe.
We'll be delivering leaflets to every home in her constituency – please come and join us and help get our message out.