Schools across the Eastern region have been celebrating their support staff as part of UNISON's Stars in Our Schools Day on 29 November.
The day is held to celebrate the unsung heroes of our schools: caterers, admin staff, finance officers, teaching assistants, librarians, ICT technicians, parent support advisers and other non-teaching staff.
In Thurrock, pupils, parents and staff spent all of November nominating those who have made a big impact on their schools.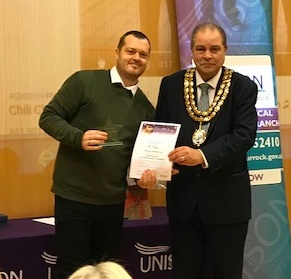 After much deliberation UNISON Thurrock's schools team chose Mr Mayo, a teaching assistant from the Treetops School in Grays, as the winner after being inundated with nominations showing how much the children, parents and his colleagues valued his work.
On Friday 29 November, Mayor Terry Piccolo presented Mr Mayo with his prizes and award during the school assembly.
Treetops headteacher Mr Brewer was also presented an award for being the Employer of the Year.
Elswhere, the Lime Academy Abbotsmede in Peterborough today held a special assembly to thank its support staff.
Senior school leaders were given kitchen duties at lunchtime so cooks could enjoy their meals with the children and support staff were then treated to a tea party with goodie bags and a prize draw.
Head teacher Rachael handed out stars for the children to cover in icing.
UNISON Eastern holds Stars in Our Schools celebrations throughout the year.
You can see pictures from a recent event at Woolgrove Academy, Letchworth, here.